In
Cheryl Strayed's book
Wild
(played by Reese Witherspoon in the movie), Cheryl accidentally looses one of her hiking boots over the side of a cliff while backpacking the
Pacific Crest Trail
(PCT). At her wits end, the story reaches its summit
see what I did there
and Cheryl promptly throws the second boot over the cliff too.Now if I'm honest, this climactic moment of raw emotion was lost on me the first time I read/saw this scene.
That boot will never go away. It will always be there.
My thoughts stayed with the boot.
If you watched the revived Gilmore Girls on Netflix, Loreli Gilmore goes to the PCT after reading
Wild
to find herself. What she didn't realize was that following in Strayed's footsteps was not a unique idea. The dozens of women who were preparing to hike as Loreli was,
are you the book, or the movie?
all had one thing in common: they all brought extra boots to throw.
Those boots will never go away. They'll always be there.
Loreli didn't.

The National Park Service (NPS) works hard to protect and preserve some of the most unique and awe inspiring natural phenomena in the world. With all of the effort they put to provide positive experiences for their guests, there is still a ways to go for people (even the nature loving kind) to put waste on their radar when they're camping, hiking or just living.
Overall it turns out that the
NPS actually does a pretty good job of diverting their waste. About 70% of what is collected is recycled or composted
(the EPA says the national average of diversion is 34.5%). NPS feels they could be doing even more by educating visitors on how cumbersome and involved waste management is not only at their parks but as a broader environmental issue.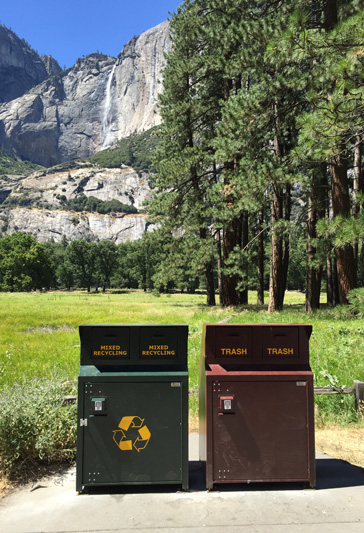 When I was at Sequoia National Forest, I was astonished to see so many dumpsters were at our campground. My car could barely make it up the hairpin turns and steep climb, how did the collection trucks manage? How long did it take? How often was it collected?
You know, the seemingly normal things you ask yourself while camping among giant trees...
But I was fascinated!
There were also recycling cans but it seemed very few people were using them. The convenience of lightweight, single use plates, cups and silverware can make camping more wasteful than not. Tin foil is an absolute necessity for most camp cooks and, even me, the trash-less princess, finds paper towels a must.
Backpackers (those who carry all their camping equipment on their backs) are often more minimalist and only carry what can be useful. We get the "Leave No Trace" mantra from them. Leave No Trace is a common ideology to leave wilderness and nature as if humans had never been there. Cheryl Strayed accidentally lost one boot, purposefully another. As cathartic as it sounds to throw something as bulky as a hiking boot off a cliff into the abyss, how does that play out when dozens of backpackers follow in her lead while simultaneously adhering to a community that absolves themselves of waste entirely?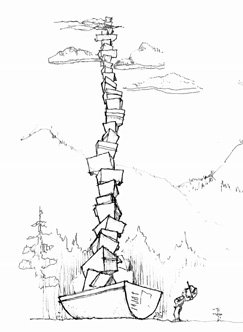 Even at our National Parks where environmental impact is more apparent
you're in the heart of nature for goodness sake!
there is still garbage to contend with. NPS says they are acknowledging that this is the most pressing challenge.
The National Parks Service saw 325 million visitors in 2016.
It fits into NPS's mission to educate visitors on where trash goes, why recycling is important and the benefits of producing less. Educating all of those people on reducing waste at the source (themselves) will create a more trash-savvy public and, I hope, will prevent any more purposefully lost boots
even if it does make for a better story.